The days of FIFA 23 are dawning upon us and we are nothing less than excited for it. But at the same time, we're all a little curious about the gameplay, aren't we? To fulfill your curiosity, today at ent.place, we bring you a deep dive into the gameplay of FIFA 23.
FIFA 23 Gameplay Deep Dive
The focus of the gameplay of this FIFA is on Hypermotion 2.0. Hypermotion 2.0 is a groundbreaking technology that utilizes machine learning to capture real life 11v11 Football matches and incorporate that reality into the game. Using Hypermotion 2.0 this year, EA carried out twice as much real world motion capture than before with two full matches of Football being played. There were even tons of training drills replayed in order to capture data. Due to all of this efforts, 6000 new real-life Football animations have been extracted in order to add in to the game.
Dribbling
EA has made it clear that player dribbling will be entirely different this year. Dribbling will not only be more responsive but it will also have more visual quality. The best dribblers inside the game will be able to change directions more quickly than before. There's a whole new dimension added to dribbling as you can now (officially) interrupt your dribble animations. This will result in a type of a body feint.
Skill Moves
As expected, we're seeing changes to skill moves and of course new skill moves too. Good news for many members of the community as left-footed skill moves are finally getting added to the game. So, left-footed players (like Riyad Mahrez) will be doing skill moves primarily with their left foot, such as an elastico. Some of the world-class attackers will have access to new fake shot animations this year. A new Stutter Feint skill move is new to FIFA this year where the dribbler will feint one direction and moving to a different one. The Heel Flick to Ball Roll is a fancy one where you use your heel to fake a back pass but do a ball roll to bring the ball back to the front.
Defending
The first area of defending to be addressed is defender jockeying. How defenders position their body and angle it against an approaching attacker is more intelligent now. Jockeying defenders will execute it more smoothly defending laterally and lunging in for tackles.
There are also changes coming in terms of tackles. The game is introducing a new tackle known as the 'hard slide'. The hard slide is executed in order to send the ball as far away as possible by slide tackling. This can be used as a proper counter to power shots. There are plenty of new animations added as well for the world-class defenders of the game. Some might be putting in a cheeky tackle even if you dribble past them. EA has also stated that there will be more deflections this year.
AcceleRATE
It's no secret that one of the first aspects of a new FIFA that players look for is how the new game affects the pace and sprints of players. There will be three acceleration archetypes this year:
Explosive: More agile players will have the explosive archetype which means they'll pull off an explosive stride from the get go. This will be available to more of the central midfielders.
Controlled: Controlled will be available for most of the players which is a more continuous acceleration over the distance.
Length: The length archetype will mostly be seen in strong physical players, mostly defenders but some attackers too. While they may not be fast in short distances, they will do long strides which will benefit them over longer sprints.
Along with that, some of the top players of the game, like Mbappe and Vinicius Junior, will have their signature run styles added.
Attacking
There are plenty of changes coming to the game from the attacking point of view.
Power Shots
Power Shots are a new high risk, high reward mechanic. The animation of this shot is said to be super explosive, so goalkeepers will probably have a hard time dealing with it. You can shoot a power shot right after a dribble or even first time.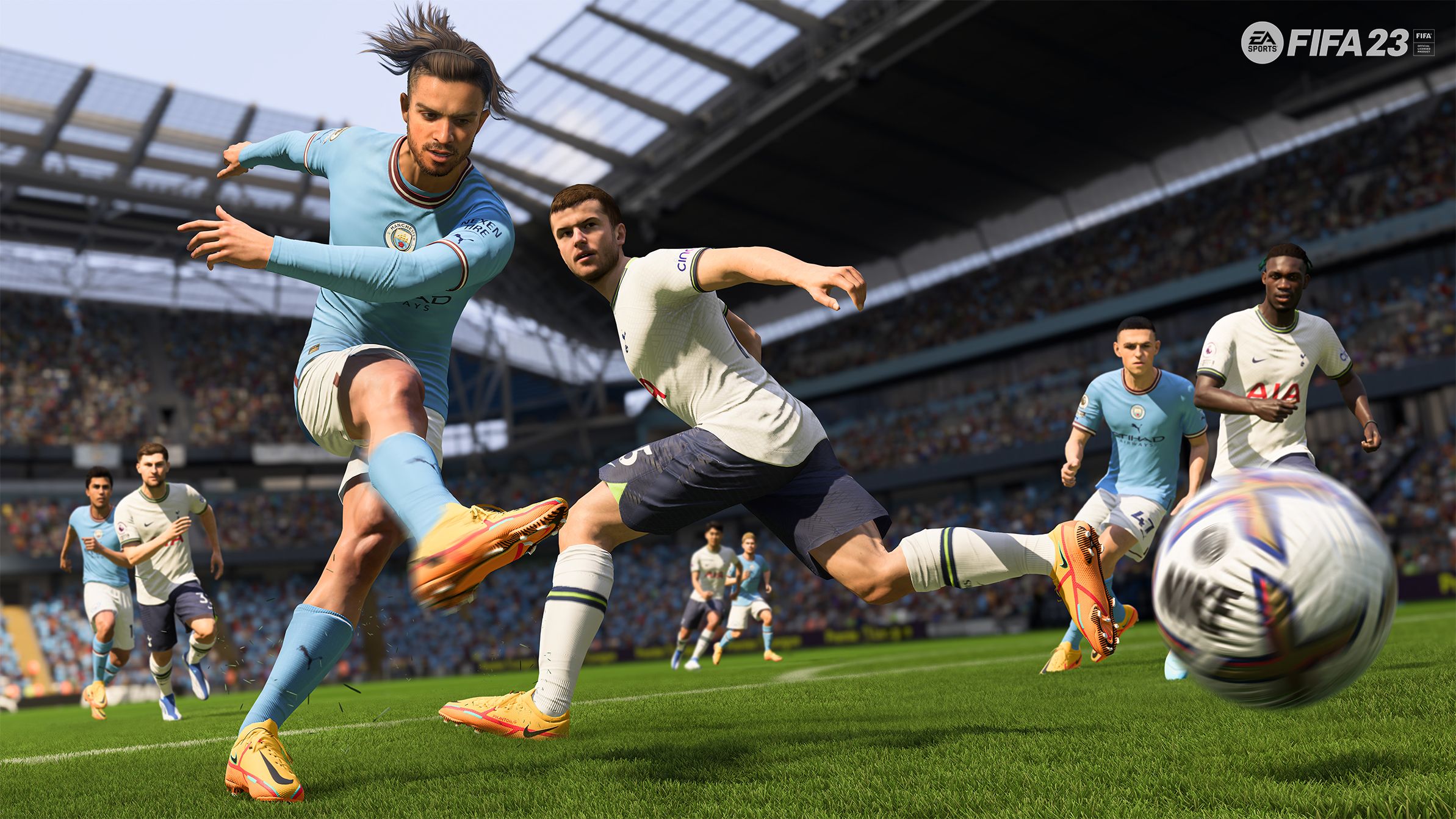 Composed Ball Striking
With composed ball control introduced last year, FIFA 23 is taking things a little further as we dive deep. Now you can control an aerial ball with a first touch and set yourself up for a volley or a bicycle kick. This will create more opportunities for players to score goals.
Set Pieces
Both penalties and freekicks are being re-addressed in FIFA 23 this year.
Penalties
Penalties are seeing a massive change this year. There will now be a circle shaped composure bar around the penalty spot which you have to time. Better timed shots will not only be more precise but will have more power as well.
Free Kicks
With free kicks this year, you'll be able to select which part of the ball you'll be hitting with your foot. This will result in a corresponding shot based on the area of the ball you're hitting. You also have full freedom over the trajectory of your shot.
But there's good news for defending free kicks as well. You can now send one of your players to lay down behind the wall to block a low shot. You can make your wall jump at the same time to have a better chance of blocking the shot.
Goalkeeping
There are two new aspects for goalkeepers in FIFA 23.
The reaction time of goalkeepers depend on their vision this year. So, if a goalkeeper's vision is blocked by his own defenders or opposition attackers, he will be slower to react to an oncoming shot. But in the event of a ball being in the air, goalkeepers will now have the definite upper hand (pun intended) as they'll grab the ball with ease and keep that despite being challenged by opposition attackers.
What do you make of FIFA 23's gameplay this year?