Stranger Things actress, Millie Bobby Brown recently revealed on social media that she has gotten engaged. The sudden announcement comes as a surprise as she had been mostly lowkey with her relationship. Where did the news come from and who is the lucky guy? Find out more!
Millie Bobby Brown Engaged To Jake Bongiovi
About Millie Bobby Brown
Born on February 19, 2004, Millie Bobby Brown is an English actress. She gained international recognition for her role as Eleven in the Netflix series Stranger Things, which premiered in 2016. Since then, she has become one of the most popular young actresses in Hollywood.
Before Stranger Things, Brown had a few small TV roles in series such as Once Upon a Time in Wonderland and Modern Family. But it was her performance in Stranger Things that really launched her career. In the show, she played a young girl with telekinetic abilities who is the subject of a government experiment.
Aside from Stranger Things, Brown has also appeared in a number of films. She played Madison Russell in the 2019 film Godzilla: King of the Monsters, and its sequel, Godzilla vs. Kong. She also starred in the Netflix film Enola Holmes, in which she played the titular character, the younger sister of Sherlock Holmes. Millie is currently gearing up for the fifth and final season of Stranger Things.
In addition to her acting work, Brown is also a model and a UNICEF Goodwill Ambassador. She has used her platform to advocate for issues such as children's rights and environmental conservation.
Looking for more celebrity news? Check out our celebrity news section!
About Jake Bongiovi
Born on May 7, 2002, Jacob Hurley Bongiovi is an American actor and entrepreneur. Jake is the son of Jon Bon Jovi, the famous musician and philanthropist, and his wife Dorothea Hurley. He co-founded a rosé wine company called Hampton Water with his father in 2018. The wine has been well-received and has won several awards, including a gold medal at the prestigious Global Wine Awards.
Jake is also involved in philanthropic work, like his father. He has volunteered with various organizations, including the Jon Bon Jovi Soul Foundation, which focuses on combating homelessness and poverty in the United States.
Bongiovi recently landed his second major acting role in a new coming-of-age film Rockbottom.
The Grand Reveal
In a rather touching post, Millie Bobby Brown shared a picture of Jake hugging her from behind with a beautiful ring on her ring finger. The beautiful picture has gathered over 11 million likes on Instagram with fans pouring in to congratulate the couple. Celebrities such as Paris Hilton and Ashley Tisdale have congratulated the cute couple on social media.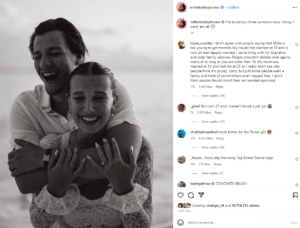 Look closely and you'll see the gorgeous diamond ring that Millie is wearing. A ring expert has stated that the diamond is about 3.5 carats and should cost somewhere around $50,000-100,000.
Fans' Reactions
Fans across the world have somewhat portrayed mixed reactions to the news. While many fans are congratulating the two and seem genuinely happy for them, some have expressed concerns.
Many have been taken aback by the fact that Millie has gotten engaged at 19. Fans think she is too young to make the move and should have waited a bit more. Netizens have surely not hesitated to post their opinions on social media.
Teenagers are getting engaged like it's the 1600s again 😭

— mandy | TLM Era🧜‍♀️ (@BattinsonMarvel) April 11, 2023
Well, we are nothing but happy for the gorgeous couple and would love to congratulate the pair!