With the TOTS campaign running strong as ever, we're seeing all the best players of the top leagues releasing one after the other. If you're still grinding at FIFA Ultimate Team and wondering what La Liga TOTS cards you can include in your team, then we have some good news for you. Today at ent.place, we bring you the best La Liga TOTS cards you can get on FIFA 22 this year.
Before we begin this list, it's best we mention that these cards have not been mentioned in any particular order. Other cards could have made this list as well but we felt that these cards fit the current meta of the game more than others.
The Best La Liga TOTS Cards
Vinicius Junior
We begin our list with a no-brainer, the one and only Vinicius Junior. Vinicius has made waves this FIFA (just like in real life) with multiple special cards. Therefore, it's only imminent that he shows up among the best La Liga TOTS cards.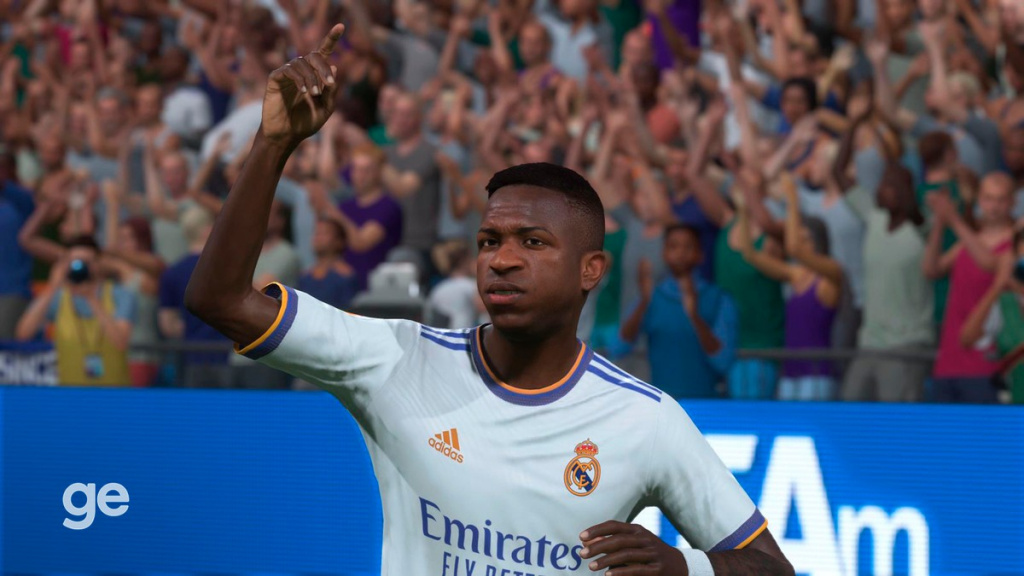 With his pace and dribbling stats maxed out, Vini is one of the best winger cards in the entire game at the moment. His 92 shooting and 93 passing does justice to his real life performance. With 5-star skill moves and a 4-star weak foot, he is a massive headache to deal with for defenders. His lean body type makes him highly agile and easy to squeeze through tight spaces. A high-medium combination of work rates is ideal for this preferred position. Now add the traits of outside foot shot and flair to this guy and he becomes one hell of an attacking monster. The preferred chemistry styles for him are either Marksman or Deadeye. This card shouldn't be hard to link since he is Brazilian and he will get plenty of green links thanks to Real Madrid.
Market Prices
Playstation: 4,950,000
Xbox: 4,050,000
PC: 4,600,000
Karim Benzema
One of the headliners of this entire Football season was none other than Karim Benzema. Just like Vini, Karim Benzema has seen his fair share of special cards on FIFA 22. His TOTS card is just the cherry on the top.
With 95 pace, 98 shooting, 90 passing, 98 dribbling and 87 physicality- TOTS Benzema is a defender's worst nightmare. 4-star skill moves and a 5-star weak foot further cement this card's status as legendary. His High-Medium work rates are perfect as well, no complains there whatsoever. An average body type isn't the best though, we really wish this card came with a unique body type. As for traits, this card also comes with outside foot shot and finesse shot. So, the shooting of this card will be out of this world. The best possible chemistry style for this card would be Engine since it will max out his pace and dribbling as well as a much needed passing boost. Benzema is linkable to a wide range of players being a French Real Madrid player.
Market Prices
Playstation: 3,250,000
Xbox: 2,800,000
PC: 3,270,000
Pedri
Although Pedri even making the TOTS squad is quite the bit of a controversy, the young star's card is definitely among the best La Liga TOTS cards.
The stats of Pedri's TOTS card is well-rounded with his pace, passing and dribbling being high along with respectable shooting and defensive stats. The card features 5-star skill moves and a 4-star weak foot which is amazing. The high-high work rates are perfect for playing this card as a box-to-box midfielder. Playing him as a box-to-box is definitely his ideal role for your FUT team. His lean body type will help going further up the pitch. As for traits, he has flair and solid player. Pedri can be slapped with either an Anchor or a Hawk chemstyle depending on where you play him. This card will be quite easy to link and integrate into your squad since Pedri is Spanish and provides green links to all players of FC Barcelona.
Market Prices
Playstation: 1,649,000
Xbox: 1,330,000
PC: 1,785,000
Luka Modric
Another card to be featured on our list that is not surprising at all is TOTS Luka Modric. TOTS Luka Modric is the highest rated midfielder among all La Liga players this year.
To begin with, the stats on this card are absolutely crazy. 90 pace, 90 shooting, 98 passing and 97 dribbling aren't everything this card has since he also features 86 defending and physicality. A combination of 4-star skills and a 4-star weak foot are pretty respectable too. The medium-medium work rates are kinda underwhelming if you ask me but it's understandable. This might affect your game to extent if you do deploy him as a box-to-box midfielder in your FUT team. He also has a lean body type which is great. As for notable traits, Modric has an outside foot shot as well. Anchor should be the best possible chemstyle for this card since it gives a decent boost to those much needed pace, defending and physicality stats. Modric is a little harder to link for his nation but thank the Lord he plays for Real Madrid.
Market Prices
Playstation: 790,000
Xbox: 700,000
PC: 799,000
Eder Militao
Eder Gabriel Militao is the only center-back to be featured on our list of the best cards of La Liga TOTS. If anything, it goes to show we don't discriminate between attackers, midfielders and defenders around here.
With 90 pace, 96 defending and 95 physicality, Eder Militao has phenomenal stats as a center back. He has pretty good dribbling stats (86) as well for a defender but we would suggest you not to dribble around with your center backs. But that being said, he does have 2-star skills and a 3-star weak foot which is pretty much expected from a player of his preferred position. His medium-medium combination of work rates are okay to have. His lean body type might seem like red flag but he is an absolutely rock in the game. The sad part is that this card does not come with any traits. The best chemistry style you should apply on this card is a Shadow since it really maxes out his pace and defending. This card shouldn't be hard to link with since he offers the same links as his teammate, Vinicius Junior.
Market Prices
Playstation: 417,000
Xbox: 369,000
PC: 425,000
All prices mentioned of the above TOTS cards were live market prices at the time of writing this article. Player prices change all the time due to their supply and demand in the FIFA transfer market.
There you have it for the best La Liga TOTS cards available on FIFA this year. Go ahead and break a leg or two with these amazing cards!