If you've logged into your social media at least a few times during the past few weeks, you've definitely come across the Johnny Depp vs Amber Heard case. Now, if you're having a hard time keeping up with the trial, that's completely understandable cause so did I. But no need to worry longer for ent.place has gathered and compiled all the highlights of the case.
Who is Amber Heard?
Born in Austin, Texas Amber Heard is an American actress who featured in movies such as The Pineapple Express, Zombieland and Aquaman, to name a few. She also appeared in a few TV shows, such as Showtime's Californication and CBS's Criminal Minds. Often complimented for her sharp facial features, the actress was a regular feature on Maxim Magazine's Hot 100 womens' list.
In 2015, Amber Heard married one of the most coveted faces of Hollywood, Johnny Depp. The couple first met in 2011 while shooting for the movie, The Rum Diary. However, their fairy tale didn't last long as she filed for a divorce from Johnny Depp on 25th May, 2016. The reason behind the divorce was allegedly domestic abuse by Depp. She also sought a domestic violence restraining order against the famous actor. Depp denied any and all claims and eventually settled for divorce.
Introduction of Johnny Depp vs Amber Heard Case
On December 18, 2018, The Washington Post featured an opinion piece by Amber Heard. On that article, Amber Heard opened up about surviving domestic violence. Her ex-husband, Depp then filed a $50 million defamation lawsuit against her in 2019. However, due to the onset of the pandemic, it got postponed. On April 11 of this year, a jury was selected in Fairfax, Virginia and the case began from the next day. Amber responded by countersuing for defamation and sought a whopping $100m in damages for stating her struggles as "hoax." It's worthwhile noting that Heard did not name Depp in that article.
Heard's accusation of sexual assault
Even though a lot of the details were already released back in 2020, opening statements of the trial painted a better picture of what happened between Depp and Heard. Ben Rottenborn, Amber's attorney stated in opening statements that her client suffered physical, emotional, verbal and psychological abuse because of the Pirates of the Carribean star. However, one of Depp's spokespersons was quick to deny all allegations. He stated that Amber Heard is making all of this up "for the purpose of Hollywood shock value of which Amber has mastered and used to exploit a serious social movement."
Not so pleasant texts
All sorts of evidences have been presented in front of the jury including phone texts that the former couple exchanged. Two of those rather distressing texts were:
Depp texting Isaac Baaruch, "Hopefully that c***'s rotting corpse is decomposing in the f*****g trunk of a Honda Civic!!"
There was another text of Depp stating, "I will f— her burnt corpse afterwards to make sure she is dead."
Depp's severed finger
During Johnny's shooting of Pirates of the Caribbean: Dead Men Tell No Tales in March 2015 in Australia, the couple apparently got into a physical fight. Depp claimed that Heard threw a Vodka bottle at his hand which severely bruised his finger causing immense bleeding. Depp's legal team showed graphic pictures of his finger right after the incident to prove their point. Depp even raised and showed his finger to everyone which even after all this time proves how bad the injury was.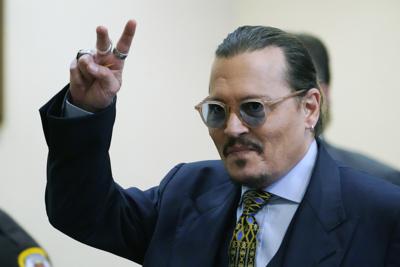 Depp also claimed that at the hospital, he told the Doctors that his finger got stuck in an accordion door. Quite a generous move to cover up for Amber's misdeed.
Heard admitting to starting fights
Depp's legal team dealt a massive blow to Amber Heard as they played audio recordings where the actress admitted to starting physical fights.
"You didn't get punched; you got hit. I'm sorry I hit you like this, but I did not punch you," she told Depp. "I did not f*****g deck you. I f*****g was hitting you. I don't know what the motion of my actual hand was. But you're fine. I did not hurt you. I did not punch you. I was hitting you," she could be heard saying.
She also said in the audio: "I'm not sitting here bitching about it, am I? You are. That's the difference between me and you. You're a f*****g baby. You are such a baby. Grow the f*** up, Johnny."
Amber's team brought up a similar allegation against Johhny Depp. They claimed that Depp had headbutted the actress back in 2015. However, Johnny confidently disagreed with the statement and stated that it might have been an accident while he desperately tried to restrain her during the fight. Depp had sworn multiple times in the courtroom that he never laid his hands on any woman throughout his entire life.
Concealing bruises with makeup?
Heard's attorney, Elaine Bredehoft showed the jury a Milani Cosmetics Conceal + Perfect All-in-One Correcting Kit. She stated that her client used makeup to conceal alleged bruises on her face. She also added that Heard carried makeup with her wherever she went.
However, in a TikTok video, Milani Cosmetics denied the claim that their products could have been used in this very incident. The company claimed that their Correcting Kit launched in 2017, long after their marriage ended. Milani Cosmetics also stated that they are "Not taking a formal stance on the trial, evidence or future outcome of the case."
Mid trial statements
The court took a week-long break from the proceedings marking the halfway mark of the case. A spokesperson of Depp hinted at Heard stating "she did indeed deliver the performance of her life" and she kept adding new details as the case kept going on. He also stated that it wasn't the case for his client, Johnny, whose claims have been consistently the same for the past six years since these allegations were pinned against him.
To respond to that, one of Amber's spokespersons stated that Depp's "defamation claim is falling apart so rapidly that his counsel are turning from prosecutor to persecutor." They were also confident in calling out his team's "approach of attacking the victim and refusing to take responsibility for his own conduct."
Final remarks
On the last day of the testimony, Amber Heard stated that the entire trail has been nothing but "torture" for her. "It's been agonizing," the actress mentioned, referencing the memes and online mocking of her testimony. "I just want Johnny to leave me alone. … I don't deserve this. I want to move on." In the end, the actress also declared, "I haven't lied about anything I've been here to say."
When Depp appeared on the witness stand one last time, he reiterated the impact that these allegations have had on his life the past 6 years. The actor once again denied such allegations placed against him.
He further added:
"No human being is perfect, certainly not. None of us. But I have never in my life committed sexual battery, physical abuse, all these outlandish, outrageous stories of me committing these things and living with it for six years and waiting to be able to bring the truth out," he said, later adding, "This is not easy for any of us; I know that."
At the time of writing this article, the court has still not announced the verdict on the Jonny Depp vs. Amber Heard case. It's important to note that none of the parties are being tried on criminal charges. It is a civil case after all and no one will be subject to a prison sentence based upon the decision of the court.