A brand new Act of Valorant has just commenced. This new Act not only comes with afresh new map but an entire collection of sweet skins. And here at ent.place, we love our skins! So, today we answer a super important question for you: Should you buy the Episode 5 Act 1 Battlepass? Read on to find the answer!
All Episode 5 Act 1 Battlepass Skins
Before we make a judgement on this very battlepass, it's only fair that we take a good look at all of the skins first.
Shimmer
Right off the bat, I'll admit that these are my least favorite skins of this battlepass. Sure, they're a little cute and cuddly but that's not really my thing. All of these guns (Classic, Stinger, Bulldog and Judge) could really use some better skins. Now I know these guns aren't played as frequently but still. If it's in the game, then you should pay attention to it. So, maybe Riot hasn't done a good enough job with these specific skins.
Shimmer Stinger: Tier 5
Shimmer Judge: Tier 16
Shimmer Bulldog: Tier 30
Shimmer Class: Free Chapter Reward (After Tier 50)
I would rate these skins a 6/10 but just for the effort.
Spitfire
This in my opinion are the best skins of Episode 5 Act 1 battlepass. I personally use the Ghost and the Operator in every match and I really needed new skins for those two. I'm sure that's the case for many, many players. The overall theme of these skins are amazing and it kinda reminds me of Phoenix. Now that I think of it, Phoenix mains should absolutely dig these Spitfire skins.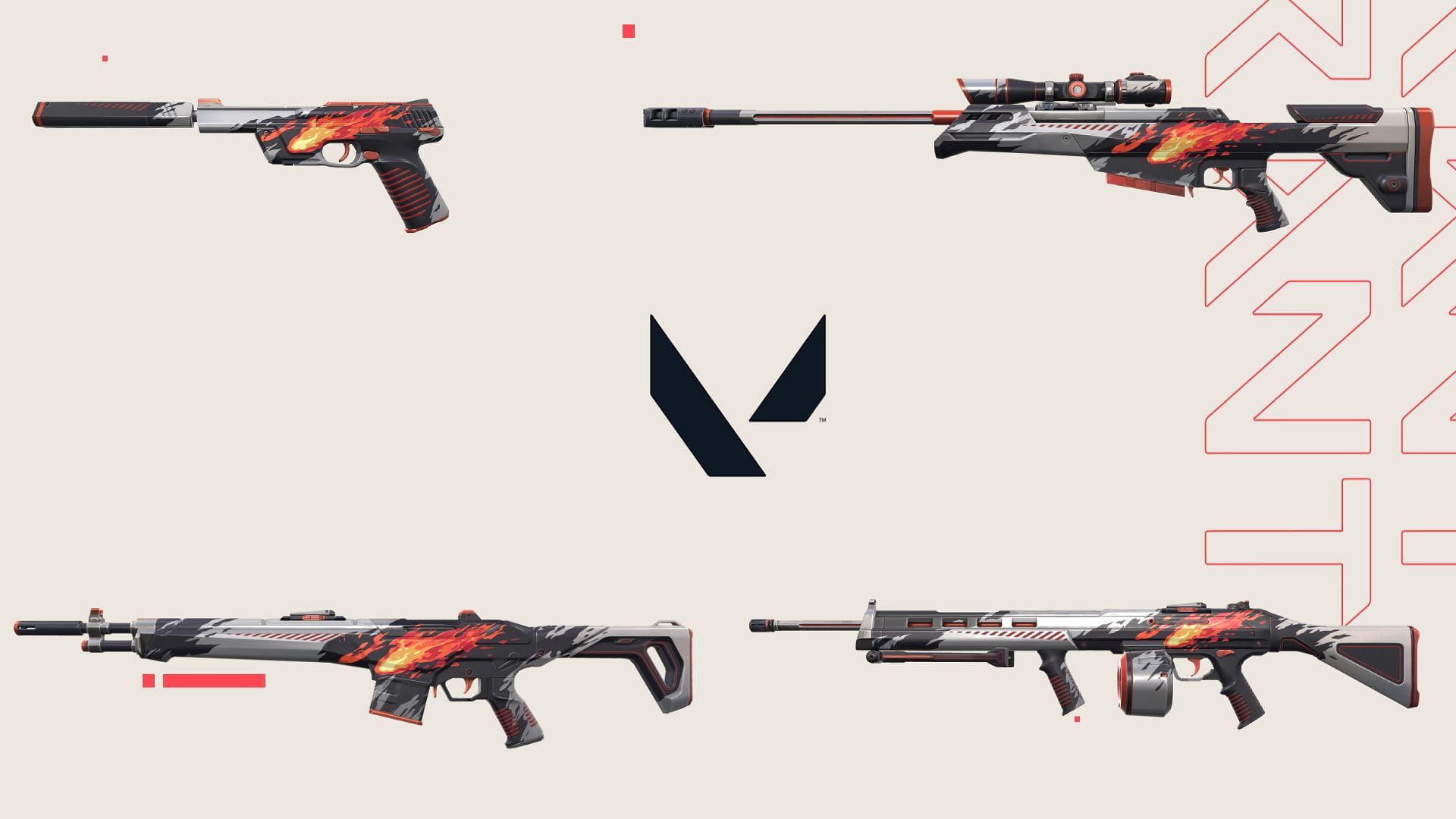 Spitfire Ghost: Tier 1
Spitfire Ares: Tier 15
Spitfire Operator: Tier 25
Spitfire Guardian: Tier 40
I think I would rate these skins a solid 8/10. They would get an ever higher rating had there not been better skins for the guns.
Task Force 809
The Task Force 809 set of skins aren't bad at all if you ask me. For some weird reason, the skins remind me of a glue gun. Jokes aside, these aren't bad skins to have. But I could see these skins getting replaced by others real soon. I really hoped for a better melee skin and I certainly do believe that a better job could have been done.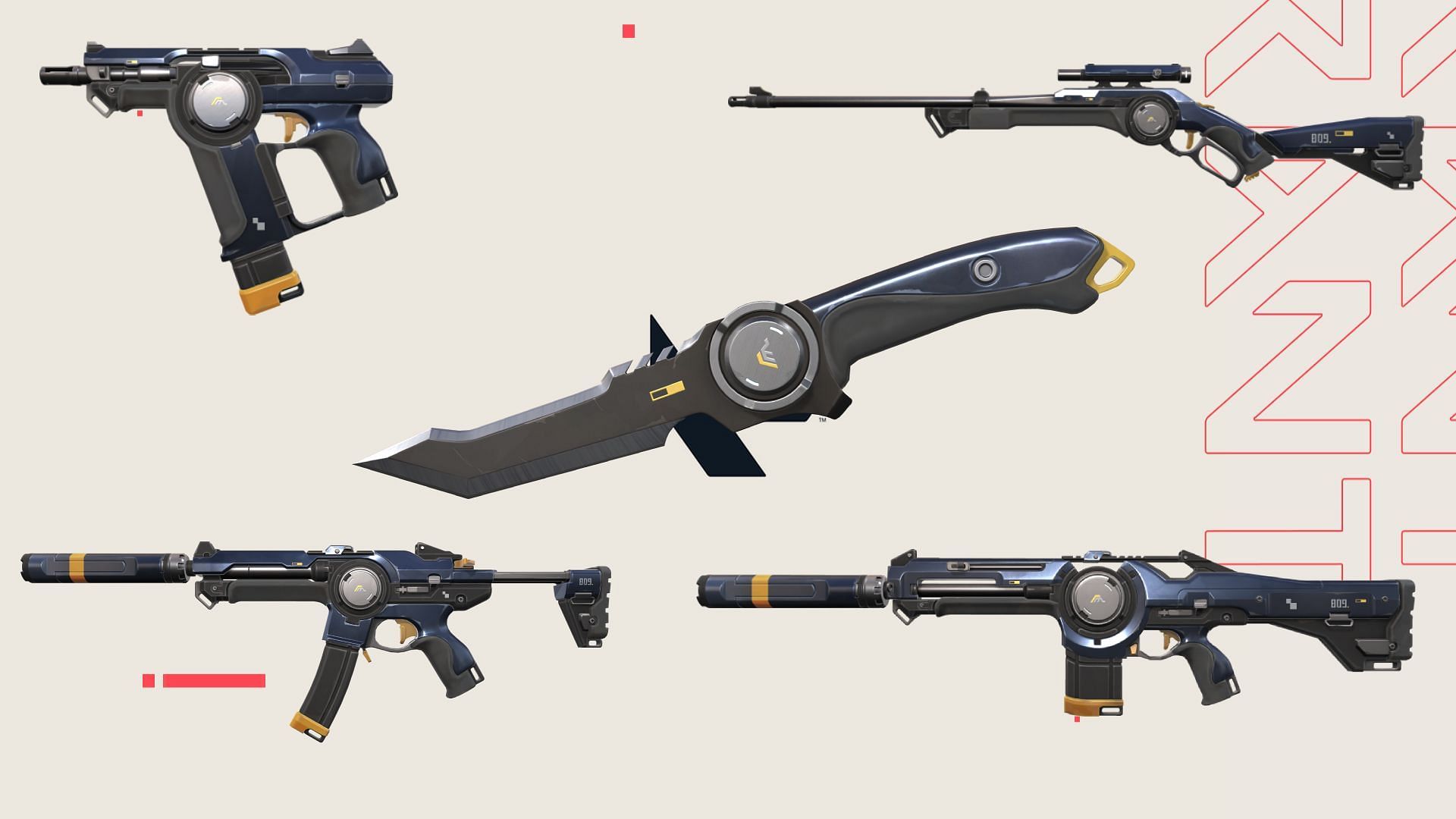 Task Force 809 Frenzy: Tier 10
Task Force 809 Spectre: Tier 20
Task Force 809 Marshal: Tier 35
Task Force 809 Phantom: Tier 45
Task Force 809 Knife: Tier 50
I would rate these skins a decent 7/10.
Prelude to Chaos Bundle
If you don't wanna get the Battlepass and can afford to go all out on the store, there's the Prelude to Chaos Bundle up for grabs. For 8700 Valorant Points, you're getting:
Prelude to Chaos Vandal
Prelude to Chaos Stinger
Prelude to Chaos Operator
Prelude to Chaos Shorty
You're also getting some cool free stuff like the Blade of Chaos which is an amazing melee skin. The animation and color variants are too good on this one. I can see a lot of players getting their hands on this one. But the main problem is that the weapon is too big and occupies a large portion of the screen. If you ask me, that's gonna be a problem when you're playing competitive matches.
HARNESS THE ABYSS BEFORE IT RETURNS FROM WHENCE IT CAME // LEAVING 07/13 pic.twitter.com/N7Swl31VDi

— VALORANT (@PlayVALORANT) June 25, 2022
If you're still unsure whether you want to get the Battlepass or not, that's fine. The new Act launched on 22nd June and will be running for 10 weeks till August 31st. So, you still have plenty of time to decide whether you want to splash the cash or not.