Comedian Woody Allen wrote and directed a satirical romantic comedy in the 70s which was way more progressive than other scripts of that time. Allen introduced to Hollywood the stereotypes of love and sexual relationships through comedy. Highlighting some of the unspoken issues of a relationship, let's take a look at our Annie Hall review!
Annie Hall Review
The Plot
Little Alvy's Curiosity
Alvy is still trying to figure out why he and Annie parted ways. Since the beginning, Alvy had an attraction for sexual intimacy which led him to kissing a classmate at the age of 6. His curious mind constantly looked for the answers of his sexual curiosities.
Alvy Meets Annie
Alvy, a comedian, meets Annie Hall, who is a singer trying her luck in Hollywood. The pair's first meeting goes discussing Alvy's ex wives and his failed sexual encounters with them.
Annie And Alvy Gets Closer
As time passed by, Annie and Alvy strengthened their bonding. They started to be quite sexually intimate with each other. From cooking together to playing games, the pair seemed to be at peace with each other.
Annie Becomes Alvy's Girlfriend
One day, Alvy asked Annie to be his girlfriend. Annie accepts the proposal and moves in with him. This leads to their beautiful bonding which is constantly blooming.
Reaching the Bottom
Things reach the bottom end when Alvy sees Annie in arm-and-arm with one of Annie's professors. The scene causes issues between Annie and Alvy, later Alvy turns into a toxic person whom Annie has never seen before. '
Reconciliation
Alvy tries to date others in the meanwhile. A reconciliation through a phone call with Annie happens when he faces a neurosis episode while he is having a sexual encounter with someone.
She calls Alvy, insisting him to come over at Annie's place to kill two spiders. Annie and Alvy vowed to stay till the end.
But, it all came back to zero. Annie and Alvy took therapy sessions to understand what they wanted from each other. After a few sessions, the pair realizes that there are undivided barriers in the relationship which can't be fixed.
Rejection and Realization
Alvy goes on a trip with Annie to host a television award. While returning to home, the two realize the relationship isn't working anymore. Yet, Alvy tried to fix the relationship again by proposing to Annie for marriage.
Annie rejects the proposal without much thought. Alvy makes a stage play based on their relationship. On stage, he brings a happy ending unlike the real life incident.
Different Pathways
Annie and Alvy reconcile again in Manhattan. Each of them are happy in their relationship with someone else. The movie ends when Annie sings 'Seems Like Old Times' in the honor of old love.
Check out more of our classic movie reviews at our dedicated section!
The Cast
Woody Allen acted, directed and wrote the plot of the movie. He acted as Alvy Singer who is an aspiring comedian.
Diane Keaton is Annie Hall.
Movie Trivia
Annie Hall is actually based on the off screen relationship with Woody Allen and Diane Keaton.
Woody Allen understood that his relationship with Diane Keaton was falling apart. Annie Hall was an attempt to pull the relationship off.
Truman Capote, writer of Breakfast at Tiffany's had a cameo role in the movie
Budget of the movie was 4$ million dollars. It ended up being a box office hit and earned 40$ million dollars.
Diane Keaton sang two of the songs of the movie. 'Seems like old times' and 'It had to be you' were sung by Diane. But she was never credited for either of the songs
Annie Hall premiered first in the Los Angeles Film Festival in 1975.
The Review
Woody Allen's movies were always way ahead of the time. Annie Hall is a type of movie which was way more bold for the 70's. However, some of the critics have criticized Allen for being too open to show his love life on screen.
When it comes down to acting, Woody Allen and Diane Keaton were successful to deliver their job. It is said that Annie Hall brought Diane some much deserving roles in greatest movies like The Godfather (Check out our review) series.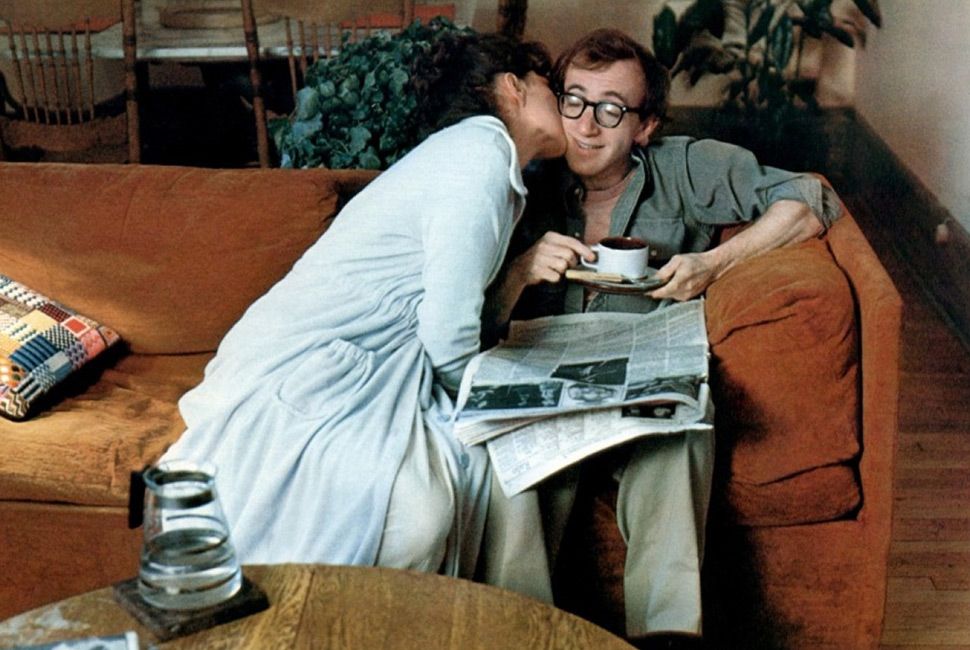 Diane Keaton was already known for being 'America's Girlfriend' for her sweet persona. Portraying Annie Hall just added another dimension to show her career.
Woody Allen has the tendency to show up in his own movies often. The characters were based on his life stories while building his career as a comedian.
Annie Hall has some subtle comedy scenes which will make you laugh. To portray an everyday problem of love relationship between couples through comedy was only possible by Woody Allen at that time. Not all actors or directors were bold enough in the 70's to work on such scripts.
While 70's were more focused on typical romantic love genre era and action era, Allen pulled his career off by doing unusual stuff. His efforts paid off after a few years. And till now, Allen's work is praised by everyone.
Awards
Annie Hall grabbed five Academy Awards, which is known as the Big Five; for Best Actor, Best Director, Best Screenplay, Best Actress and Best Picture.
Annie Hall also won Golden Globe and BAFTA awards.
If you liked our Annie Hall review, good news is we have more classic reviews coming your way!