Woody Allen made sure to make enough memories with his girlfriend Diane Keaton by casting her in his films. To reminisce about their relationship Allen and Diane paired up and made a few films together. Manhattan is one of those movies where Diane and Allen collaborated. Let's find out more in our movie review of Manhattan!
Manhattan Movie Review
The Plot
Relationship Issues
Isaac Davis, a 42 year old double divorcee who is currently dating a minor school girl. Issac got divorced because his ex wife, Jill, came out to him as Bisexual and left to live with her Lesbian partner Connie. Isaac's best friend Yale is having an extramarital affair with his wife Emily's friend Mary.
Change Of Heart
Isaac meets Mary in a fundraising event for the Equal Rights Amendment at the Museum of Modern Art. Mary's characteristics were offensive to Isaac. But, no one can get rid of the opposite attraction.
Isaac and Mary lingered the conversation till sunrise. Isaac realizes he has grown romantic feelings for Mary. In the meanwhile, Isaac's relationship with Tracy comes to an end and he encourages Tracy to pursue higher education in England.
Oopsie!
Yale breaks up with Mary. He suggests Isaac to ask Mary out. Eventually they start dating and Mary moves in with Isaac.
Yale's wife Emily becomes highly curious about Isaac's current girlfriend. Four of them hang out together where Isaac recognizes Jill's book, 'Marriage, Divorce and Selfhood'.
The event takes a fun turn when Emily reads out a part of Jill's book where Jill mentioned about the group sexual interaction of Jill, Isaac and another woman.
Isaac runs onto Connie and Jill where Isaac confronts Jill about the personal information. Jill tells Isaac that she can not cut the part as Jill already signed a film contract on this book.
Mary and Isaac break up for unknown reasons. He accuses Yale for the breakup and snitches about Yale's extramarital affair with Mary to his wife Emily.
Alone Again
Isaac is lying down on his sofa. He is reminiscing about his relationship with Tracy and realizes that Tracy is worth keeping for.
Isaac tries to reach out to Tracy on the phone and fails. Later, Isaac goes hunting for her by foot. When Isaac reaches Tracy's home, she is already leaving for London.
Isaac tries to stop Tracy but she shows her determination. While Tracy leaves for London, she tells Isaac that he should not be too scared to have faith in the relationship. The movie ends with the music composed of George Gershwin's Rhapsody In Blue.
Cast, Director and Screenplay
Woody Allen acted as Isaac Davis, the 42 year older double divorcee.
Allen's former girlfriend Diane Keaton was Mary Wilkie. At that time, Allen and Diane were dating each other.
Legendary Actress Meryl Streep was Isaac's ex wife Jill Davis.
Actor Michael Murphy played the role of Yale Pollack who is Isaac's best friend and a college teacher.
Annie Byrne played Emily Pollack, Yale's wife.
Tracy, Isaac's underage girlfriend, was played by Mariel Hemingway.
The movie was directed by Woody Allen himself. Allen also co-wrote the screenplay with Marshall Brickman. Allen has written several movies with Marshall Brickman
Trivia
Manhattan is Woody Allen's first ever black and white movie.
The movie is a combination result of Allen's other work Annie Hall and Interiors.
George Gershwin's composer Rhapsody in Blue was the main inspiration to make this movie.
Soundtrack
All the soundtracks of the movie were the compositions of George Gershwin. The compositions were recomposed by New York Philharmonic and Buffalo Philharmonic under the musicians Zubin Mehta and Michael Tilson Thomas.
New York Philharmonic has composed 10 tracks including 'Rhapsody In Blue' and 'Love Is Sweeping The Country'
The orchestra, Buffalo Philharmonic composed 3 of the tracks.
Our Review
This movie is of the romantic comedy genre. Woody Allen has established his career as a comedian at first. Hence, he had the urge to make comedy movies based on his experience as a comedian. The roles he has written were inspired by his real life incident.
Allen tried to express his relationship with Diane through this movie. Allen and Diane were in a courtship for several years. To make their courtship memorable, Keaton and Allen frequently collaborated.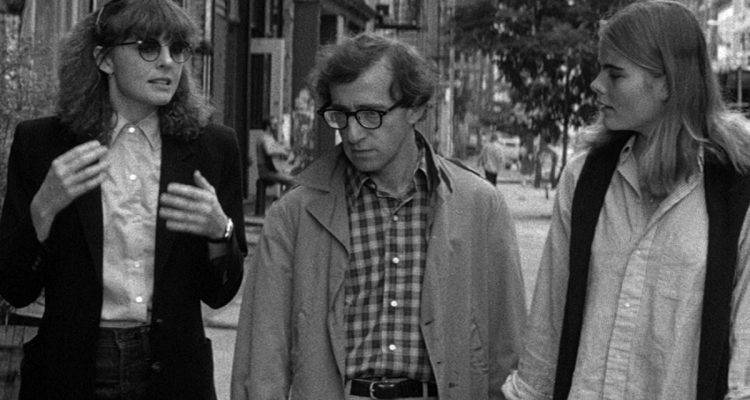 Each movie Allen and Keaton have collaborated on, Allen emphasized on the relationship he shared with Keaton. Manhattan is one of the movies where Allen and Keaton's chemistry was beautifully flourishing.
Meryl Streep was always flawless with her acting. Her character, Jill Davis gives more of a sassy New Yorker vibe who keeps breaking the norm of the society.
Making a movie which has LGBTQ plot in the 70's was quite bold of Allen. Allen tried to show every aspect of love through his movies with the help of comedy. He also tried to deliver the message of love having no boundaries.
Manhattan is Allen's second highest grossing movie in the 70's after Annie Hall. The movie earned 40$ million dollars in the box office. Due to the interesting plot, audience adapted the movie in a positive mindset.