Whenever you hear about Roman Holiday the movie, the beautiful face of Audrey Hepburn and sharp jawline of Gregory Peck floats in your mind. Let's take a dive to the memory lane to relive the beautiful movie again. 
The Plot
Princess Ann Enjoying City Life
Princess Ann came to Rome for a very short time. Despite many of her visits in Europe, Rome is where the madness begins.
Ann's doctor gives her an injection to rest for a while. While getting intoxicated, Ann's doctor advised her to follow whatever Ann's heart desires.
After a while of the doctor's departure, Ann secretly leaves her room and starts exploring Rome. After a while, the injection starts getting into her nerves and she gets dizzy.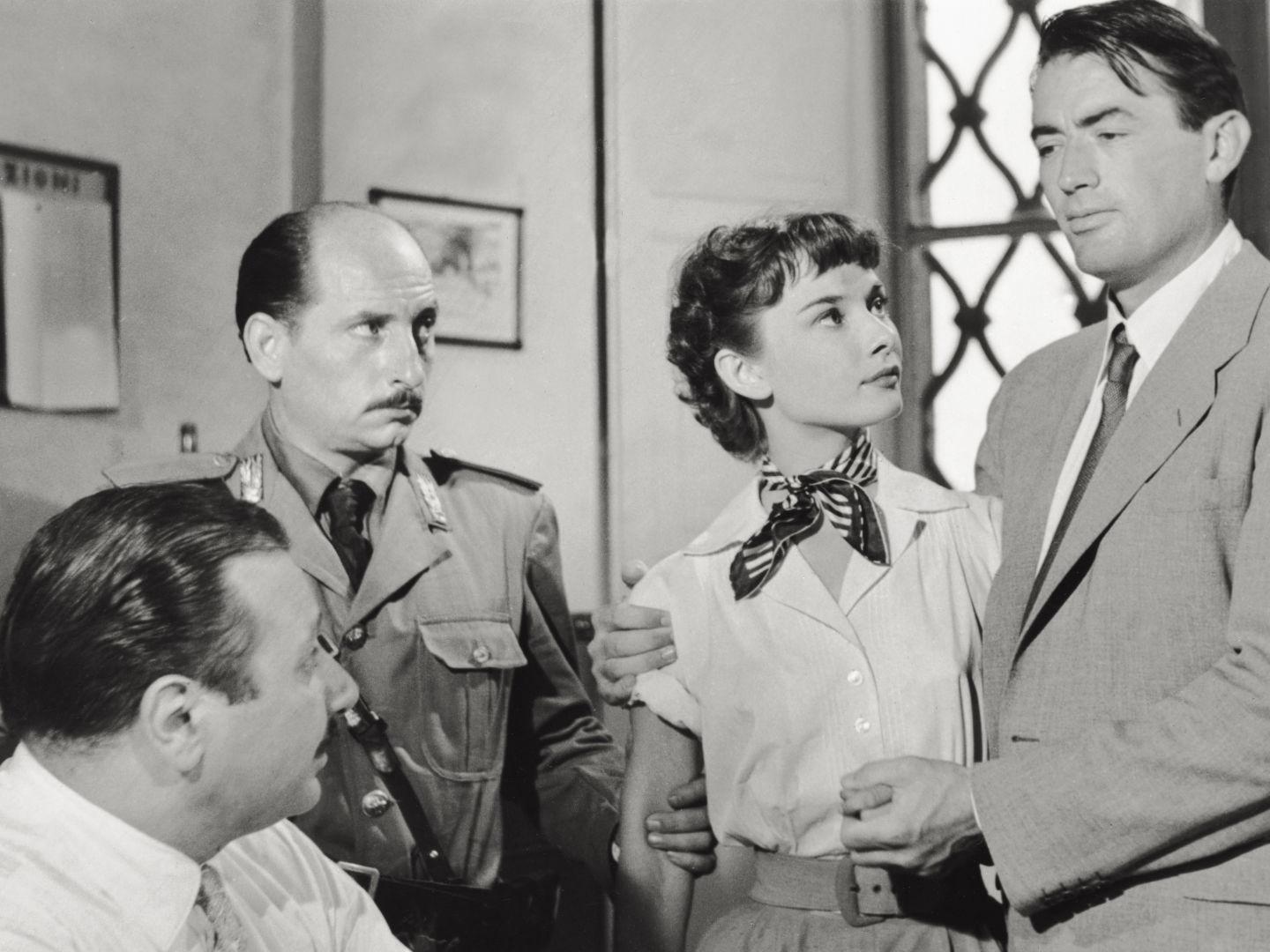 Later, Ann passes off on a stone bench. Joe, a reporter who works for an American news channel, finds Ann on the bench. Understanding that Ann might be intoxicated, Joe takes Ann to his apartment to let her rest well.
Life Changing Moment For Joe
Joe was supposed to attend the press conference of Princess Ann. As he was being late to work, Joe submitted a fake report to his editor, Mr. Hennessy about the press conference. Later, Hennessy tells that the conference got cancelled due to the sudden illness of the princess.
When Hennessy showed Joe the picture of Ann, he had no idea that it was Princess Ann who had been sleeping in her apartment.
Joe thinks about his benefit and calls his photographer Irving to secretly take photos of Ann. Meanwhile, Joe also offers Hennessy to get him an exclusive interview with Princess Ann without telling him her presence at his apartment.
Hennessy gets curious about Joe's offer and agrees to pay 5000$ if Joe could get the interview. Hennessy also bets on 500$ that Joe will fail.
Ann Enjoying Her Freedom
Ann wakes up in Joe's apartment. Joe offers Ann to have a toll with him around Rome. Ann rejects his offer and starts her own adventure.
Here Ann starts her life behind the royal rules. She explores the local market and gets herself a pair of shoes. Ann truly enjoys being civil and her observation on daily life of Italians fascinates her.
Ann decides to cut her long hair and wishes to get herself a new look. She cut her hair short.
Joe stalks Ann and suddenly meets her at Spanish Steps. Somehow, Joe manages Ann to spend a day with him. While they hang out in a street café in Rome, Joe invites Irving.
Ann becomes more courageous and takes Joe on a Vespa and tries to drive through Rome's traffic. All of them, including Irving, get arrested by the police of Rome. Joe and Irving help Ann escape the issue by using the fake press pass. Later, Joe and Ann visit the Colosseum and Mount of Truth.
The Royal Romance
Ann gets invited by the barber who cuts her hair in a dance on the boat. The agents of the government tell the embassy that they spotted Ann with civilians. Forcefully, the agents tried to take Princess Ann away. The barber, Joe and Irving save Ann from the kidnapping. Ann tries to fight off the kidnappers and the group breaks. While the police come, Ann and Joe run away.
Joe falls into the river to save himself. Seeing Joe drowning, Ann jumps off and saves Joe. They share their first kiss on the bank of the river.
To hide from the dance, Ann and Joe swim away. Later, both dry themselves at Joe's apartment. Sharing very intimate moments with each other, Ann realizes what she has done.
Ann regrets breaking the royal responsibilities. She tells Joe to drop her off near the embassy. Before she goes back to being a princess, Ann and Joe share one last kiss and bid Joe a tearful goodbye.
The Bittersweet Goodbye
Realizing that Joe is in love with Ann, he decides not to publish any story of Ann. Joe gives permission to Irving to sell the photographs he took. Later, Joe and Irving leave for the postponed press conference by the embassy.
Joe confirms Ann that he will not let the world know about the moments they shared with each other. Surprisingly, Ann asks each journalist to come forward and have a few words with her.
The time of Joe and Irving arrives. Irving handed Ann the photographs as a souvenir of Rome. Ann and Joe share some bittersweet words with each other and leave the room. With a broken heart, Joe also leaves the room after everyone leaves.
The Cast
Audrey Hepburn was Princess Ann
Gregory Peck played the role of Joe who is the journalist
Irving Radovich was played by Eddie Albert
Hartley Power is the editor of the newspaper
Several other Italian actors and actresses had roles in the movie
Movie Trivia
For the role of Ann, Director William Wyler's favorites were Elizabeth Taylor and Jean Simmons. The role of Joe first went to Cary Grant. Later, Gregory Peck agreed to play.
The directors and producers were not looking for the Italian actresses. Audrey Hepburn matched all the criteria of the role. The movie brought Audrey international recognition and her first ever success in Hollywood.
The movie was supposed to be a color movie but thinking about the budget they took the decision to make it a black and white movie. A sequel was supposed to happen, but the project never took off.
Filming of the movie happened in the touristic spots of Italy including Spanish Steps, Mount of Truth, Colosseum, Tiber River and many other places.
If you have a thing for classic movies, do check out our review on Casablanca as well!
Our Review On Roman Holiday The Movie
The movie starts with the smiley and fresh face of Hollywood. Audrey's expression on screen will make anyone swoon. Her beautiful smile, the cutesy princess vibes will make you fall in love with her. Tall, sharp jawline and chiseled body of Gregory Peck will definitely leave you in awe.
The romantic scenes of the movies will give you butterflies in the stomach. The scene where Audrey and Gregory shared their first kiss will definitely make you crave for the same action from your specific person.
As wholesome as their romance seemed on screen, the ending will make you prepare to weep if you are a hopeless romantic. For that, it's better to be prepared with a tissue box.
Hope you loved our review Roman Holiday, the all-time classic movie. See you again only on ent.place!