Is Valheim worth buying?
As I am writing this, Valheim is currently ranked third on both 'current players', as well as 'peak today', on Steam, topping games such as Rust, PUBG, Apex Legends, and GTA V.
The only games ahead of Valheim at this point are long-time fan favorites Dota 2 and CS:GO, both of which have been around for quite some time.
After its initial Early Access launch on February 3, 2021, the survival game gained a massive following in record time, breaking several records on its way to its current 5 million+ copies sold worldwide.
It sold over 1 million copies in its first week alone, then another 3 million copies in the following two weeks.
If you are already familiar with Valheim, consider checking out either our guide on things every new player in Valheim should know, or perhaps even our more advanced tips and tricks.
So, what exactly is Valheim?
If Minecraft and Skyrim had a baby
Imagine if Minecraft and Skyrim had a baby; this little Viking would most definitely be named Valheim.
The game offers traditional survival game elements mixed with epic boss battles, it offers flexible and fun building, and last but not least, it offers an immense amount of fun, either be it solo, or with friends.
Valheim on Steam
This is what Steam wrote about the game on Valheim's launch page:
"A battle-slain warrior, the Valkyries have ferried your soul to Valheim, the tenth Norse world. Besieged by creatures of chaos and ancient enemies of the gods, you are the newest custodian of the primordial purgatory, tasked with slaying Odin's ancient rivals and bringing order to Valheim.
Your trials begin at the disarmingly peaceful centre of Valheim, but the gods reward the brave and glory awaits. Venture forth through imposing forests and snow-capped mountains, explore and harvest more valuable materials to craft deadlier weapons, sturdier armor, Viking strongholds, and outposts.
Build a mighty longship and sail the great oceans in search of exotic lands… but be wary of sailing too far…"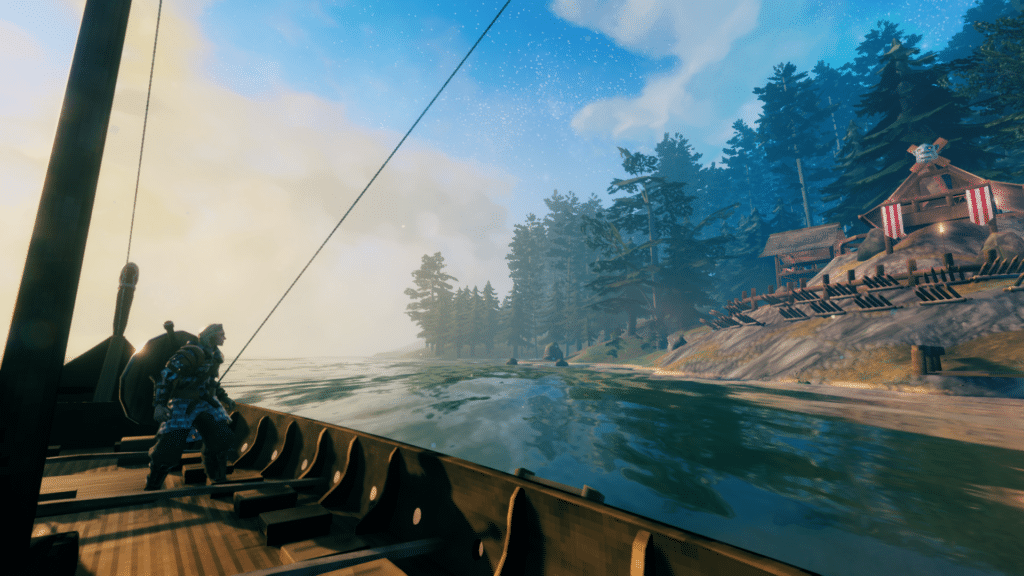 Having fun with friends
For us at Ent.place, the biggest joy of playing Valheim has been to discover and conqueror the world, together. We started out building small wooden cabins, if you can even call them that, as they barely gave shelter.
As we cut trees and gathered resources to progress we had some glorious encounters, as well as some rather funny blunders, like crushing each other to pieces with falling trees while gathering wood.
Either way, we had many great laughs and epic moments as we barely started to unfold the world of Valheim.
Endless possibilities
Together, we sought to arm ourselves with the best armor and mightiest weapons we could find to take on anything we were faced with.
Some of us enjoyed fighting from a distance with a bow, while others preferred to duke it out toe-to-toe with our opposition. We were fearless.
Later in the game, we took on even harder encounters, as we challenged ourselves to take down fierce bosses with creative rulesets, we built giant castles and massive villages, and we hoarded treasures for our loot chests at home.
All in all, Valheim is highly recommended! It is hands down among the best investments game-wise we have done, and we won't ever regret buying it.
It truly gave us, and still gives to this day; a tremendous amount of gaming joy.