Based on Jessica Knoll's book, 'Luckiest Girl Alive' was aired on Netflix on 7th October. Having Mila Kunis as protagonist has taken quite a toll in newsletters and social media. As this is a movie based on a novel, netizens were hush hushing about the on screen adaptation.
A Little Backstory
38 year old Ani Fanelli, also known as Tif, Ani or Finny by the close ones who happens to work in The Women's Bible, a New York based glamorous magazine's senior editor.
She has been engaged to the love of her life for the last 6 years. She is 6 weeks away from changing her surname to Harrison from Fanelli.
Her life happens to be picture perfect. In order to get the perfect shot of happy life, few of the negatives must burn from the role.
When she was in her teenage, she got gang raped by a bunch of boys from her school whom she thought as her friends.
However, 3 among 4 rapists were killed in a school shooting caused by one of the students of her school. One of the surviving victims of the shooting massacre who's also one of Ani's rapists, got crippled and survived as a specially abled person.
When Ani tried to open up about her story, no one believed him. She was accused of the school shooting and numerous other accusations which weren't true. Every time she tried to tell her story she was told to sit back. Oftentimes she had to apologize to her rapists in order to maintain a good relationship in school.
These horrifying incidents caused her Post Traumatic Syndrome Disorder, in short of PTSD. The more she caged herself into these traumas, the worse her condition got.
She was also struggling to make right life choices while growing up. Due to the past traumas, she wasn't aligning with the accurate decisions.
Then one day, finally, she gathered the courage to tell her story to the world. When she was working as an editor in The Times of New York, she used the platform to raise her voice.
Her story inspired people to speak up about herself. She took them as an inspiration and finally started living the life she always wanted.
How is the Movie?
As the screenplay was written by the author herself, no major changes were shown in the movie. This movie speaks of the thousand rape survivors who has similar stories.
At the first few minutes, it'd seem like a regular romcom who has a quirky and speaks her mind type of protagonist. As the interval hits, the movie seems to make a lot of sense.
There is mystery for sure, but it is not predictable. There is no unnecessary drama or plot twists, rather the scenes were quite accurate.
The plot is pretty common in the industry. But not often these plots are played on screen. This movie delivers a message to the people which needs to be heard more often.
The movie speaks the voice of many unknown stories. Directors and the screenwriter have successfully delivered their assignment to the viewers.
Effects on the Viewers
Protagonist Mila Kunis says it was a challenging character for her to portray. Being the voice of a rape survivor is definitely something very sensitive to adapt. She says she feels lucky to act in such a character where she could be the model of many voices.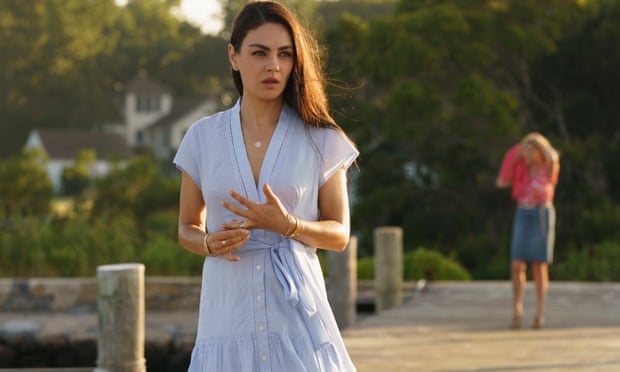 Social media and newsletters have been talking about this movie ever since its premiere. There is also a trending hashtag on Twitter and Instagram under the name #luckiestgirlalive to encourage people to tell their story.
The survivalists are speaking their unheard voices by using the trending hashtag. This movie was an eye opener for a lot of people. Not everyone has the courage to speak up. This movie does justice to them.
Final Ball to Deliver
Apart from Mila Kunis, Chiara Aurelia had the most screen time. She played the younger version of Ani Fanelli. Finn Wittrock, Connie Britton, Dalmer Abuzied and Alex Barone got important roles to play in the movie.
There are some graphic scenes to upset the viewers. Those scenes can be traumatic to watch.
The movie has received mixed reviews. However, the actors and their characters were highly praised. IMDB has rated the movie a 7 out of 10. Rotten Tomatoes has given 40% to the movie.
The reason why the movie may receive mixed reviews is because of less resemblance with the book. Even though the original writer has written the screenplay, due to direction the reviews may be different.
Fun Facts of Luckiest Girl Alive
Here are some little known facts about the movie itself:
This movie was directed by Mike Barker under 'Made Up Stories' production house. 4 producers along with the protagonist Mila Kunis produced the movie.
Before airing it on Netflix, this movie was released in selected movie theaters. The production started in Canada and ended in New York.
This is the first book of the writer Jessica Knoll and it was published in 2015. Before the book was even released, Actress Reese Witherspoon and her production company 'Pacific Standard' along with Bruna Papandrea already bought the domain to make this a film. But, the production company got bankrupt and eventually they lost the domain to Lionsgate. Though Bruna still produced the movie but in Mike's production house.
The original book was a huge success to the publishers. It was a New York Times bestseller and was published under two publications in the USA and Australia.
This book is sort of a self story of the writer herself. At first, she did not want the public to know about her story. Later, she wrote a letter to Lenny Letter, an online feminist portal to open up about her experiences as a teenager.
Do check out more of our reviews on Movies & TV Shows!
As these heinous incidents are quite regularly happening, this movie will give the viewers an ick while watching. These issues will not be eradicated soon but more movies like Luckiest Girl Alive will help bring justice.